March has been a busy month leading into the homestretch of the semester, which I'm now fully in the midst of. Products I've relied on have been highly functional, straight-forward and unfussy. Let's hop to it.
I rotate through different concealers all the time, but this one has held a spot in my makeup routine quite firmly all month. I'm a fan of UD Naked Skin Foundation, so I'm not surprised I like this concealer (also a fan of the UD Naked Skin Ultra Definition Powder Foundation), as it brings the same natural-looking coverage to the table. I've actually been applying a swipe of this on each section of my skin after a heavy dose of moisturizer and then buffing in with a duo-fibre brush (Real Techniques Stippling Brush) and it's just enough coverage for an everyday look. I have both "Medium-Dark Neutral" and "Medium-Dark Warm" and must note that the neutral shade is noticeably darker than the warm shade. Also, the neutral shade is too pink for my liking, so I don't use it without mixing it with another concealer (usually with a shade or two of NARS Radiant Creamy Concealer that I have that happen to be too yellow in undertone). If you're a person who sticks to spot-concealing with a little bit of powder to set, this is a sound option to explore. The shade range isn't massive, so if you have tricky skin to match, definitely try before committing to the buy.
Chanel Stylo Eyeshadow in "Caroube" (on counters May 4th)
Summer beauty collections are trickling in and Chanel's features a bunch of new shades of the Stylo Eyeshadow formula that I believe first launched with the Papillon d'Ete summer collection two years ago. The shades then were more about blues, greens and one killer black shade. This summer collection features five new shades, and Caroube, described as a luminous warm brown, has been my go-to shadow for a few weeks now. The formula is less shimmery than any Illusion d'Ombre shadow I've encountered, and the formula is delightfully cool on the lids when applied. These set fairly quickly, so work fast to blend the shadow in! My way to avoid shadow setting before I've buffed it out with a fluffy synthetic shadow brush is to apply it in smaller sections instead of attacking the whole lid at once. The look is still cohesive, soft and so pretty.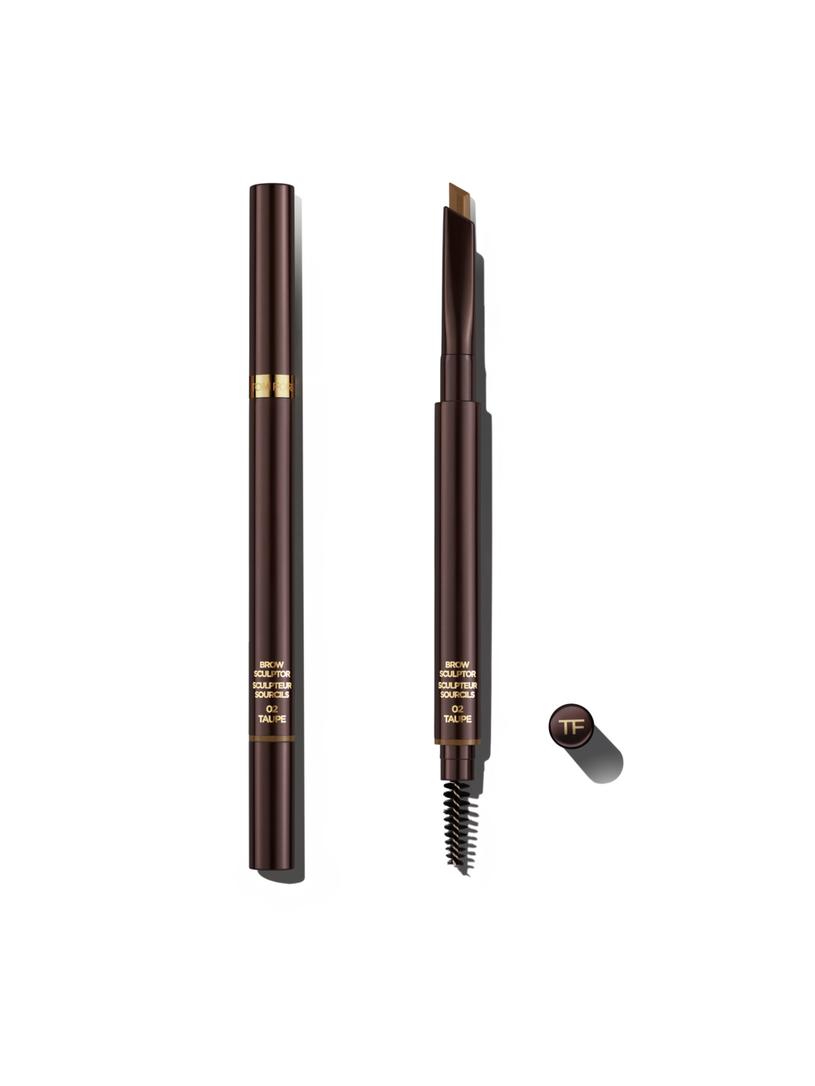 I was so committed to Armani Brow Maestro (and still really appreciate the formula as a whole!!), but it felt really time-consuming and one day, I just strayed. I actually rediscovered Tom Ford Brow Sculptor in "Taupe" in my stash and immediately started using it again. The colour is delightfully cool-toned and great to run through the front of brows for soft definition. It's not great for precision (even with its handy dandy built-in sharpener), so I use it in conjunction with Stila Stay All Day Waterproof Brow Pen in "Dark". This pen gives me ultimate control with the ability to draw in "hairs" wherever I need'em. I set everything with
Maybelline Brow Drama
, which is the best darn drugstore brow gel, period.
After I returned from Dominican, my skin freaked out pretty aggressively, resulting in a cystic breakout on my forehead that I began to refer to as "The Volcano". It never surfaced per se, but it was painful and basically left my forehead deformed. Everything I would normally use (La Roche-Posay's Redermic [R] and Effaclar Duo+) wasn't doing anything for me, so I started freaking out. Then Amanda, the IDI's star skin whisperer, introduced me to this product. Instead of benzoyl peroxide (towel bleacher!) and salicylic acid, this formula contains antibacterial colloidal silver and lactic acid to address skin woes. It works really well and cools off breakouts thanks to a menthol-type ingredient. Glad to have a trusty spot treatment on hand!
Burberry has been changing Canadian distribution plenty since pulling out of Holts (I heard Tom Ford Beauty snapped up the Burberry counter spaces with the exception of the Vancouver location). The beauty range can be found in Burberry boutiques across Canada aka basically nowhere except Toronto, Montreal and Vancouver. I grilled the store associates about increased counter presence in department stores and they said that the range will be carried at Nordstrom (currently only in Calgary's Chinook Centre) as the department store continues to gradually roll out in Canada. Glad to hear this! Also discovered that the brand's full beauty range hit TheBay.com last week. I learned about these lipsticks from the Clarins PR team, but decided to seek them out IRL to try the formula. This shade is one of four signature shades in the new lipstick range, but there are lots of options available. I am apparently never in possession of enough nude-rose-pink lipsticks, so I bought this lipstick. For the price point ($36 CAD), I am super pleased with the formula and can envision myself wearing this embossed bullet down to its base. Your mileage may very, but I find the lipstick formula is super comfortable, lasts a long time without reapplying and the colour is sublime for everyday wear. I appreciate the magnetic packaging, the reflective case (I use the lid as mirror if I ever do reapply) and the hydrating formula (features tea, lavender, rosehip).