I was fortunate to escape the cold for 7 days this month to scurry off to Samaná in Dominican Republic with my boyfriend. Pretty sure the cold snap ended as soon as we left, but the tropical weather in Samaná was a welcomed reprieve after the unfathomably cold winter we just endured in Toronto.
As I mentioned in my last post, I planned on packing mostly sunscreens; I wound up only wearing makeup two nights of the entire trip. Here are the products I donned daily to protect against the sun during the day and rehydrate at night.
I like sunscreen oils, which were barely a category up until a couple years ago. Traditionally, oil + sun = human roast, but that's not the case anymore.
Last summer, I wrote about L'Oreal's Sublime Sun SPF Oil and how much I adored it
, and I think I actually might like this Supergoop! version more. It's a bittersweet discovery though,
because I don't even know if it's possible to get it in Canada without paying an arm/leg + duties
. Fun fact: I did some digging and can confirm that Supergoop! is reformulating and repackaging to meet the stringent rules we have in Canada regarding sun protection, but will be relaunching in due time this year. On with the review: I find the Supergoop! version dries down much faster than the L'Oreal oil and it just feels like moisturizer, no sunscreen residue or even oily residue at all, since the formula absorbs quickly. The formula is full of antioxidants to fight off free radical damage that sun exposure causes, and meadowfoam hydrates skin beautifully. The 1 oz size was included in last spring's Sephora Sun Safety kit, so it was perfect to take along and try out last week. I'll definitely be stocking up on my next trip to the states. Semi-related sidebar rave-rant: I love Supergoop!'s SPF wipes and curse the day they were discontinued.
Shiseido Wetforce Ultimate Sun Protection Lotion Broad Spectrum SPF 50+ For Face/Body
This sunscreen's technology is remarkable in that it actually
improves
its ability to protect skin against sun damage when wet aka it works the exact opposite of every traditional sunscreen lotion or spray that's ever graced the marketplace. Negatively charged ions in the formula bond with positively charged ions in the water (such as calcium and magnesium deposits) to then spread the SPF over the skin's surface, improving its efficacy. I was pretty big on being in the shade, but did hit the water and was sure to liberally apply this sunscreen before doing so. Note: just because efficacy improves with water exposure doesn't mean you should skip out on reapplying!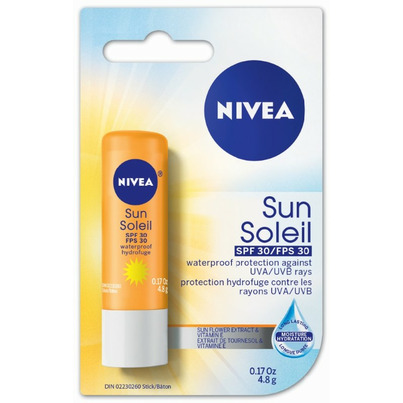 Having unevenly pigmented lips means sun exposure makes the uneven pigment even more exaggerated. No thanks. Swiped this on repeated throughout the day to avoid shade deepening (SPF 30!) and keep lips moisturized (vitamin E, sunflower extract). Fancier alternative: Fresh Sugar lip balms (which have an SPF of 15), but frankly, they melt like a snow cone in Phoenix when in high temperatures.
Honestly? I picked up a 0.5 oz bottle of this from Sephora, thinking I would use it in my hair while away. I tried it and absolutely hated the results. Luckily, this stuff can also be used on skin so I switched to using it after scrubbing away all the sunscreen and it was awesome. The floral smell is really strong so smell before committing to the purchase, but it didn't overwhelm my senses and the blend of argan, grape and sesame oils was just what my skin wanted. Great size for travel and a little goes a long way.
Airplane Essentials:
I used to fly to Halifax from Toronto or Hamilton throughout undergrad and then between Toronto and New York all the time during post-grad, but my skin was never really bothered. Now I can't seem to get through an hour of flying without digging into my Ziploc of products to apply one thing or another. I flew with zero makeup this time around and while it was a bit disorienting to catch my own reflection on a shiny surface and not entirely recognize my own bare face out and about in broad daylight, it was definitely more conducive to applying and reapplying the following products every hour on the hour to Samaná and back.
I've harped on about this product too many times to count on this blog and that's because it is WONDERFUL. My skin has a tendency to flake in the winter and that had reached a breaking point by the time we boarded our flight. When in makeup, I can't really make a point of slathering on a layer of this magical cream every time I would like to, so I took advantage of my makeup-free face and put this stuff on throughout the flight to keep any and all flakes at bay.
This product is an editor favourite and I didn't get the hype at first, and frankly, I'm not even sure that I've
seen
a major difference in my skin, but man, I
felt
the difference when it was abnormally warm in the plane cabin and spritzed this refreshing fluid onto my face. It was invigorating and reenergizing in a wonderful way. The formula is full of white tea and licorice extract to fight against signs of aging while pea extract gives skin a flash-firming effect. It was a skin treat, straight-up.
No, one lip balm is never enough. Dr. Jart+ Ceramidin Lipair is cooling and minty, with a lot of oils in the formula (babassu seed oil, avocado oil, jojoba seed oil, coconut oil, and pomegranate seed oil) as well as shea butter, but it still is no match for airplane dryness! I topped off the aforementioned balm with Rodial's thick, semi-goopy (but not necessarily
sticky
) Glam Balm, which is full of hyaluronic acid, rose wax and vitamin E to really seal moisture in.