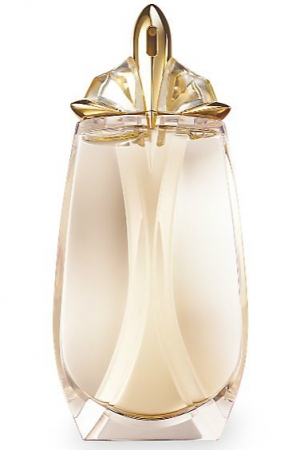 As a person who is obsessed with scent and the concept of having a fragrance wardrobe, I was curious when I received an invite to the unveiling of Thierry Mugler's latest fragrance addition to the his brand. When I see the name "Mugler", I think purely of Thierry Mugler Angel, which has to be one of the most polarizing fragrances I've ever smelled.
When I interned at FASHION Magazine in summer 2011, I recall we were coming upon the 20th anniversary of Thierry Mugler Angel (launched in 1992 in Europe, and I believe 1995 in North America) and it was the second time in my life I paused and gave the juice a deep inhale (the first time was at The Bay before a Blink 182 concert with a couple friends, and the sales associated asked us if we wanted to smell like an angel...). I was not crazy about the gourmand oriental notes that flooded my sinuses, and those feelings remain to this day, hence a slight feeling of apprehension when entering the event last week for the launch of Alien Eau Extraordinaire.
To be fair, Thierry Mugler Alien is not at all in the same vein as Angel, and for that, I'm quite grateful. Alien contains a pretty substantial jasmine dose, unlike the headiness that is Angel, weirdly complex with notes of vanilla, patchouli, chocolate, caramel and red berries. Just typing the notes gives me a headache, I swear.
All that being said, I was practically bowled over when handed a paper blotter with a spritz of Thierry Mugler Alien Eau Extraordinaire on it. Light, luminous, and wearable are the words that came to mind, and that's not really the first three words that I'd ever associate with Thierry Mugler scents. This is a huge departure from the fragrance brand's normative behaviour, and I'm frankly thrilled to see such a shift in direction.
At the presentation, Christophe De Lataillade, Creative Director of parfums Thierry Mugler, shared such interesting little facts about the process of creating the scent story, as well as what went into creating the visual campaign and TV spot (directed by Torontonian Floria Sigismondi!), making the presentation quite full of teeny anecdotes, delightful to hear.
Thierry Mugler apparently said to "start where you stopped", so the lights were figuratively and literally turned on to revive the model in the campaign. The idea at play was that a solar goddess needed to be revived by sunlight. Mugler encouraged the team to use fiber optic technology in the dress for the campaign (it apparently weighed 30 kg!), and the TV spot itself has musical stylings of Sigur Ros to express the feeling of brimstone turning into gold, luminous elements.
The composition of the fragrance:
Top notes -- Bergamot, Tunisian neroli, Tea
Middle notes -- Heliotrope, Tiare flower
Base notes -- White amber, Cashmeran
These base notes are at the heart of all Alien fragrances, so they're very much the link that tie the different fragrances together. The reason I decided to write this post is because I normally would pass by any offering from Mugler, thinking it would be another Angel experience. I urge you all to smell this scent when it launches in stores in April at Hudson's Bay, Sephora and Shoppers Drug Mart. It's incredibly wearable and a sound option for spring/summer, as it's the most non-Mugler Mugler scent imaginable!
Disclosure: This post contains product(s) sent from the company or their PR team for editorial consideration. For more information, please click here.