I wrote this a couple weeks ago and never got around to posting it...reading week (and actually being quasi-productive during said stretch of time) got in the way! Without further ado, let's move on to the awesome:
Emjoi Micro Nail
I have been a fan of Emjoi's Micro Pedi for a little over a year now. I was first introduced to it at EGPR's Essentials Lounge 4 in fall 2013 during TIFF. It presented a very fast, convenient method for smoothing rough heels, so it's been a tool I've used a ton since receiving one. This past September, I was able to try Emjoi's Micro Nail, which is a automated nail buffer and shiner. This thing rotates 1800 times per minute, so the buffing roller smooths out ridges and leaves the surface of your nails ready for the second roller, which polishes them to a shiny finish. It's actually bewildering to see how shiny you can get your natural nails without the use of any products, just this tool. It's hitting stores during the holiday season here in Canada, so keep an eye out for it. It's great for anyone who isn't into manicures due to the high maintenance nature of the whole process, but does like the look of a clear coat.
I've never been drawn to loose powder foundation formulas; they're hard to travel with, messy to use generally speaking (unless you're a fan of powder all over your vanity) and usually are mineral-based, meaning bismuth skin itch settles in shortly after applying. Leave it to Chanel to change how I feel about the entire category of loose powder foundation! First of all, Chanel's original retractable kabuki brush is one of my favourite brushes of all time, so to have a mini version of it included with this foundation is definitely a value-add for me. I can't say enough good about this super-soft and supple brush. It's just a joy to use. The foundation formula itself is housed in genius packaging with a lid that has a stopper of sorts to prevent powder from releasing unnecessarily. To release the powder, keep the lid screwed on, turn the entire container upside down, tap on the bottom a couple times and you're good to go. The foundation isn't itchy on skin, but rather comfortable. I've been wearing this to school for light to medium semi-radiant coverage, so it's been excellent for daily wear, even with shifting temperatures.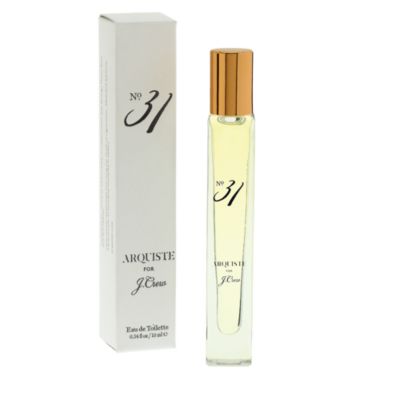 When I first read in WWD that J.Crew was delving into the fragrance realm (Who isn't these days - get those incremental sales, fashion brands!), I thought the scents wouldn't be as unique as they've turned out to be. To my delight, No. 31 and No. 57 are very distinctive fragrances that are exactly in line with their inspiration, which was
Exhibition by 31 Women
, the first all-female modern art show in the US, held in New York City, curated by Peggy Guggenheim in 1943. I am definitely more into the Bulgarian rose, oakmoss and red vermouth elements of No. 31, which are so warm and inviting on my skin, and it lasts for ages (I believe these are EDT concentrations, so 6-8 hours of wear time I get from a quick dab of this scent is outstanding). If you're a fan of Elizabeth & James Nirvana Black or any other sandalwood-driven scent, No. 57 is probably more up your alley. The bottles are pretty, but I'm more of a rollerball person these days, as no fragrance is in rotation for too long in my life.
I've been trying to diligently get to bed early to accommodate how early I need to rise on certain days of the week. Luckily, I've never had issues getting up early, but that doesn't necessarily mean my skin looks as well-rested as I feel (shoutout to calcium magnesium with vitamin D for proper rest!). The eye area is the first to make me look exhausted, so this gel has been a nightly treat for my eyes. The trick is to use it sparingly -- every time I use too much, I can feel my lower lid stick to itself, which is a
really
weird and undesirable sensation. By morning, fine lines are significantly diminished, making concealer that much less time-consuming to apply.
I actually came across this specific shade when I received
NUDESTIX GILTYLOVE Holiday Eye Kit
after meeting the brand founders, Ally, Taylor and Jenny at Sephora Eaton Centre for a blogger event. I love the blendability of this pencil, and it has a subtle sheen that doesn't overwhelm the whole face, as I've been steering clear of anything too shimmery or loud for a while now. The whole range is very wearable and user-friendly, with a lot of flexibility in how the products can be worn. Sidebar: There's a NUDESTIX lip pen launching soon, in both soft matte and shiny gloss finishes -- the matte versions are comfortable and lovely for a diffused wash of colour or bold lips alike so check them out when they hit stores!