Time-pressed, tired and back to the grind of work and school, so here are some bits that have delighted me over the past month!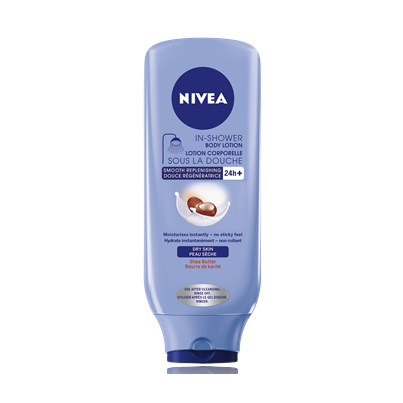 Who actually likes putting on body lotion in the winter? Not me. If I'm damp from a shower and dying to get dressed, slathering on lotion is beyond a chore in such a vulnerable moment. I'm not as religious about body moisturizing as I ought to be, but this product helps substantially. I used to use the Olay in-shower body lotion many moons ago, but that formula made the shower/tub slick as ever, and I suspect it was pulled due to safety hazards galore, but I digress. This formula contains shea butter and only needs to be on skin a few
seconds
to work its magic. Towel-dry and get dressed because your skin is already hydrated. Blessed praise! P.S. There are three versions of this product for different severities of skin dryness, and the fragrance varies as well - I rec the Smooth Replenishing version, but they're all aces in my book.
I'm East Indian, but that hardly means that I'm okay with looking pale all winter long. I'm an occasional dabbler when it comes to self-tanning efforts (I like testing products more than I like incorporating them into my daily routine), so I usually just rely on makeup to warm up my complexion. That changed last year when this product launched. This wonderful little bottle contains a fluid that you can mix in to your usual moisturizer. A few drops of this booster effectively turns your standard skin hydrator of choice into a perfect, subtle self-tanner with minimal smell (and I mean really minimal, no DHA stench situation here), no streaking, no staining and no tell-tale orange colour. You just look a little healthier than you did the day before. It's gradual, buildable and super easy to use, with little to no chance of breakouts because you're mixing it with your usual skincare. Sidebar: Clarins is launching a body version of this product in the spring, so I'm preparing to replace all gradual tanners for my limbs with the body version when it launches!
As you may know, I'm not a fan of face primers. I usually find them to be too silicone-y, and just sort of generally suffocating on my skin. I had the joy of eating these words and feelings the other day when I was at a preview for Rodial's new makeup range that will be debuting in Canada this spring. There were actually many products that jumped out at me, namely
Eye Sculpt
and
Glamolash XXL
(which I've also been loving this month), but this primer's texture and effect were tremendous without that heavy silicone sensation. The formulation for this primer is heavily derived from Rodial's Dragon's Blood line, which is full of hyaluronic acid to plump skin and diminish fine dehydration lines. I believe this will be at Murale/murale.ca for $40 in March (though it's likely it'll land a little earlier than the official launch date). Skin looks like the most perfected canvas, even without makeup being applied on top. Definitely one to try out when it launches!
Maybelline Lash Sensational Mascara
Maybelline Canada's lead makeup artist,
Grace Lee
, said this was her new love when unveiling this mascara backstage at Toronto Fashion Week, so I impatiently waited for December to roll around when it was apparently launching. The rollout was a bit slow, but well worth the wait! This wand deposits a lot of product onto lashes and then does a brilliant job of separating lashes out for a seriously fanned-out effect. The formula is inky black and honestly, a little on the liquid side for my liking, but I imagine it'll be perfect once it dries out a bit. I already have a backup of this mascara on deck, which is a testament to how much I love the look it helps me attain. Another drugstore mascara home run for Maybelline!
This was a
Sabrina-fuelled buy
, and I am so grateful to her for
swatching
and
reviewing
several shades from this range. Her advice to apply this balm with a lip brush is extremely helpful, so I have to insist you heed that advice if you give this balm a whirl! The colour payoff is much more even with this application method and the level of precision just adds to how great this colour looks on lips. Hydration, natural colour and substantial long wear time (versus other tinted balms) make this worthwhile.